Laboratory information management system - otherwise known as LIMS is a relatively new phenomenon in the life sciences industry that is rapidly changing the landscape as we know it. So, what is LIMS exactly? In its simplest terms, LIMS is a software-based approach to manage the operations of a lab. Key features of a LIMS software solution include data tracking, reagent management, workflow management, inventory management, and reporting. Over the years, the definition of LIMS has become quite controversial because the need for management solutions varies greatly from lab to lab. A food and beverage lab are going to have different needs than an industrial lab, for example.
In order to understand how LIMS software is rapidly evolving to fill the need for lab automation, lets first travel back to the 1980s when the idea of LIMS was first introduced. Up until the late 1970s, virtually every laboratory was using manual reporting and transcription methods. As you might imagine, this was an extremely time-consuming process and led to many human errors.
Some laboratories developed solutions in house to streamline these processes as the need for some sort of commercial reporting system was clear. In 1982, a single centralized minicomputer was introduced to utilize automated reporting tools. This is considered the first generation of LIMS. Interest in this new technology grew fast and by 1990s, LIMS was allowing labs to implement better data processing and exchanges due to the rapidly developing client/server architecture.
Now, the definition of LIMS is constantly evolving as there are countless applications for it in the scientific landscape of today. Given the rise in this modern technology, it is surprising that many labs still rely on pen and paper. Some labs still use this outdated approach to transcribe test results, manage inventories, and document instrument calibrations. This type of approach is subject to human error and lacks efficiency. It also forces scientists to do manual labor that simply unnecessary when they could be doing actual work that matters. In other words, the lack of modernization in many labs is not sustainable.
You might be thinking; "well my lab uses excel, what's wrong with that?" While Excel works for smaller labs, it is not a scalable and customizable process for your workflows. When you have vast amounts of data in excel, it is very easy to lose track of where things are and requires a significant time commitment to knit pick through excel sheets – not to mention the hair pulling frustration. Simply put, there is just better technology that can help research scientists achieve more in less time. In addition to keeping labs running efficiently, LIMS also ensures that you are meeting regulatory requirements such as Good Manufacturing Practice, Food and Drug Administration, Code of Federal Regulations, and Good Laboratory practice. You should start thinking of LIMS as your new best friend.
There are three distinct ways to differentiate LIMS and the way it makes most sense to do so is by deployment type. What I mean by deployment type is simply how the LIMS is implemented into the lab in question. The three distinctions are on-premises, Cloud SaaS, or remotely hosted. On-premises refers to the LIMS being installed and run on servers that are located in the lab's facility. On premise LIMS hinder scalability and seamless data sharing because they are time consuming and expensive to implement. On the other hand, cloud-based software as a service LIMS is essentially the opposite. This kind of application allows users to subscribe to the platform without having to implement any physical hardware. This method reduces complexity because the subscriber doesn't own the system or the server – they are simply a user. The make or break in this situation is obviously the vendors commitment to the client in terms of customer support. Last but not least is the hybrid between Cloud SaaS and On-premise – remotely hosted. Remotely hosted relieves any infrastructure or IT management needs because it is hosted on a remote data center but the lab owns the LIMS they bought.
The need for lab automation is becoming essential because the need to automate manual processes is obvious for reasons I have outlined above. True lab automation cannot be achieved without the implementation of a LIMS solution. LIMS has a proven track record of successful applications as it has been widely adopted across the life sciences industry in the United States and abroad. As with any products and features, LIMS does have a few issues as it is a relatively new application that has seen a few challenges. Some vendors have tried to tailor specific product features to unique customer situations resulting in less functionality of the base product because less time is spent developing it. Not only are the features specific to one customer, this results in challenges with scaling and upgrading because updates override previous feature progress. On the other hand, specific industries need specific product features so it is hard for vendors to accommodate a "one size fits all" approach. Lastly, implementing LIMS software is complex task and one that requires a highly specific organizational approach. Determining which kind of LIMS deployment method is necessary for your organization can be very tricky.
Here at Genemod, we have worked hard to make the implementation of new software as seamless as possible by providing free data migration with a turnaround time as little as 72 hours.
Here is an example of what a common raw data excel sheet looks like from a lab: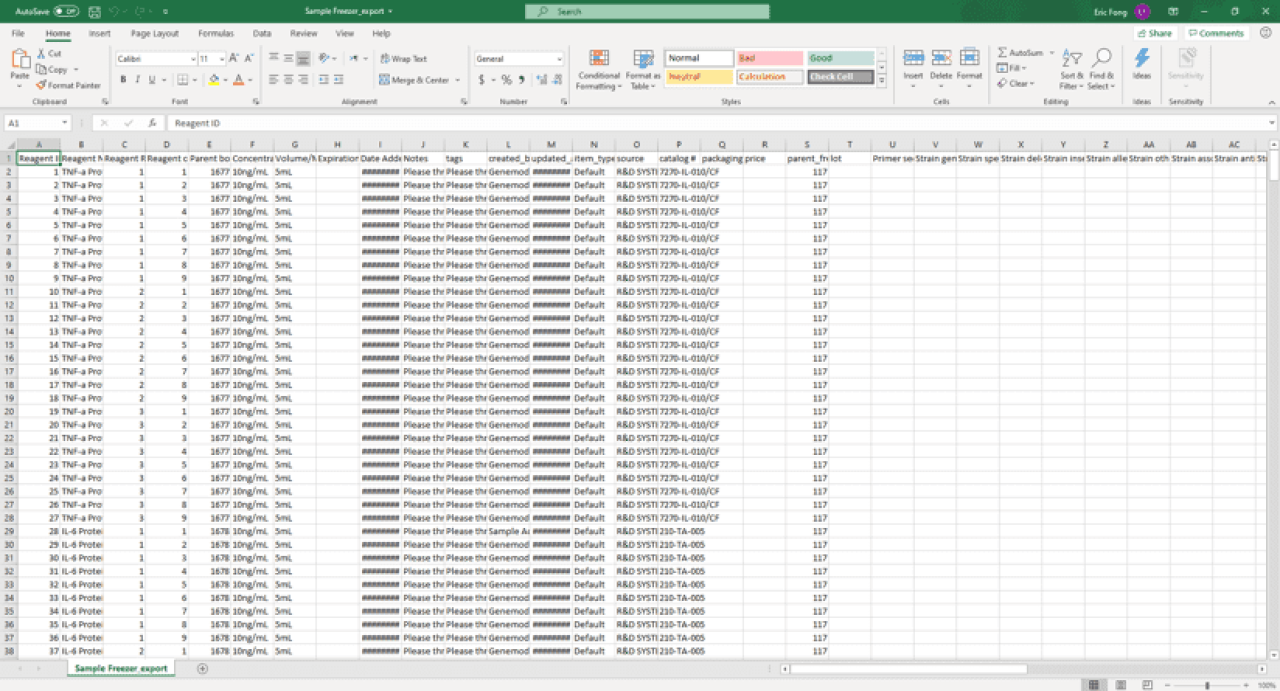 This is the equivalent sheet migrated into our beautifully designed platform with a seamless user experience interface. This is the place where you can record important information about the values in specific cells so that you don't have to go hunting.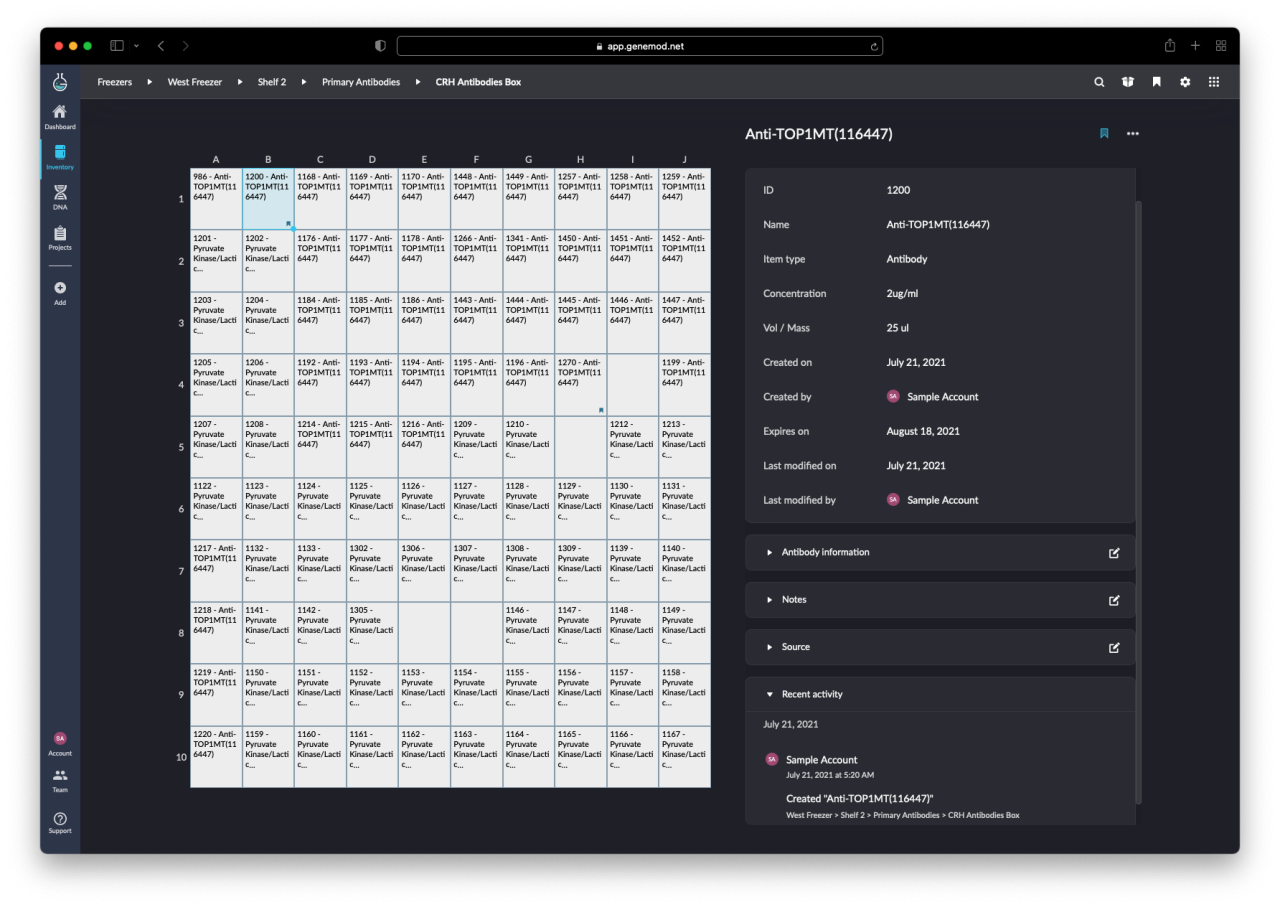 Our platform provides analytics at every layer in order to streamline your workflows so that you don't have to do the busy work.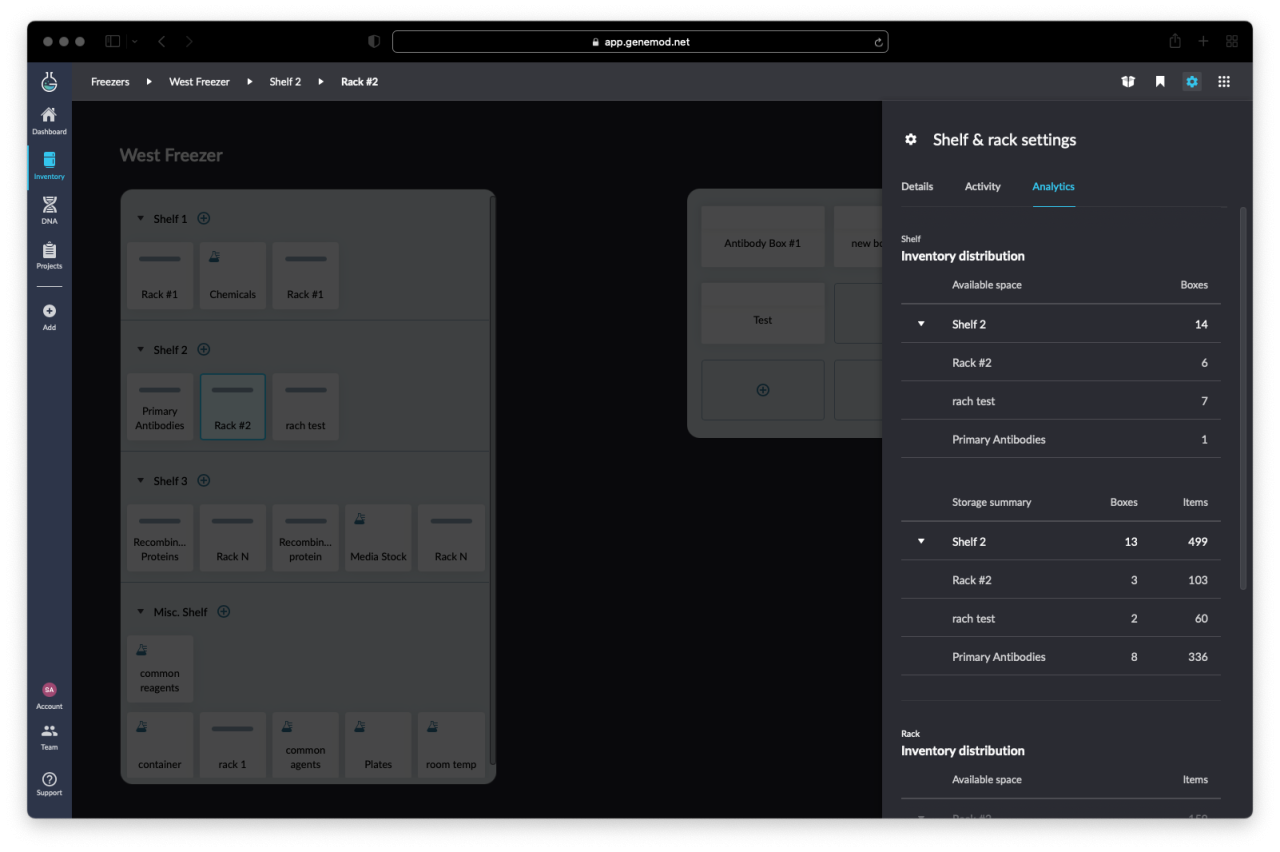 There are easy to understand table views as well as overview analytics that provide you with valuable in-depth information.
Lab automation is becoming the norm in the life sciences industry. At Genemod, our mission is to make research reproducible, save costs, and develop cures and results faster so that we can all live healthier, more fulfilling lives. With our Cloud-based SaaS platform, inventory management, workflow coordination, sample tracking, and data analysis are all in one place so that you can speed up performance and reduce mismanagement of supplies and labor. We hope that now more than ever, labs will begin to make the switch to lab automation practices as recent events relating to the COVID-19 pandemic have highlighted disparities in our current practice.
References:
"Utilizing Laboratory Information Management Systems (LIMS) for Lab Automation." Astrix Inc., 24 Jan. 2020.
"10 Ways LIMS Can Automate Your Lab." CSols Inc., 5 Mar. 2020.
"Laboratory Information Management Systems (LIMS): Advantages for Genomics Labs." Laboratory Information Management Systems (LIMS) | Advantages for Genomics Labs, 2020.
"Laboratory Information Management System." LIMSWiki, 2020.
Goldberg, Alexander. "Benefits of a Laboratory Information Management System." Labtag Blog, 27 June 2019.